Salsa Clubs in New York ~ Manhattan Salsa Venues
UPDATED 3/17/2013
| | | | | | |
| --- | --- | --- | --- | --- | --- |
| CLUB | TELEPHONE | DIRECTIONS | DAYS | VENUE TYPE | DANCING ? |
| Amor Cubano | (212) 391-6881 | 2018 Third Ave | T,W,TH,F,S,SN | Restaurant | Dancing |
| Club Cache | (212) 391-6881 | 221 West 46 St | TH | Nightclub | Dancing |
| Club Taj | (212) 620–3033 | 48 West 21 St | M | Nightclub | Dancing |
| Columbus 72 | (212) 769-1492 | 246 Columbus Ave | F, S | Nightclub | Dancing |
| Copacabana | (212) 239-2672 | 268 West 47 St | T,F,S | Nightclub | Dancing |
| Cuba | (212) 420-7878 | 222 Thompson St | F,S | Restaurant | NO! |
| Favela Cubana | (212) 777-6500 | 543 LaGuardia Place | T | Restaurant | Dancing |
| Gonzalez y Gonzalez | (212) 473-7878 | 192 Mercer St | F,S | Restaurant | Dancing |
| Guantanamera | (212) 262-5354 | 939 Eighth Ave | T,W,Th,F,S,Sn | Restaurant | Dancing |
| Havana Central | (212) 398-7440 | 151 West 46th St | W,TH,F,S,SN | Restaurant | Dancing |
| Havana Central | (212) 662-8830 | 2911 Broadway | W,TH,F,S,SN | Restaurant | Dancing |
| Iguana | (212) 765-5454 | 240 West 54 St | Th,S | Nightclub | Dancing |
| LQ | (212) 593-7575 | 511 Lexington Ave | W | Nightclub | Dancing |
| SOB's | (212) 243-4940 | 204 Varick Street | F | Dinnerclub | Dancing |
| Son Cubano | (212) 366-1640 | 544 West 27 St | T,W,Th,F | Supper Club | Dancing |
New York Latin Clubs ~ This page has a directory of New York Clubs that play Latin Music or Salsa Music, including Reggaeton, and Urban Music.

Many of the venues listed below host regularly scheduled and weekly Latin Events. Latin cluba are great places to dance and enjoy music as well as meet people and socialize. The crowd is young, stylish, and urban.
There are Latin Club listings including adrress, cross streets, telephone numbers, and links to Yahoo maps in Manhattan, the Bronx, Brooklyn and Queens.

Blue Note
131 West 3rd Street
(between 6 Ave & McDougal St) (212) 475-8592
Jazz listening club. Restaurant.
Cover Charge, reservation recommended.

China Chalet
205 Pearl Street
(between Liberty & Fletcher St)
(212) 558-6139

China Club
268 West 47 Street
(between 7th & 8th Ave)
(212) 398-3800

Club Babalu
323 W. 44 Street
(between 8th & 9th Ave)
(212) 262-1111

Club Vasilon
3534 Broadway
(144 & 145 Street)
(212) 283-1788

Copacabana
560 West 34 Street
(corner of 11th Avenue)
(212) 239-2672
Nightclub. Multi-level, Tapas-style food.


D`R`K
114 Dyckman Street
(between Post and Nagle Streets)
212-304-1717
Subway 207 St Station on 1,9 lines
El Flamingo
547 W. 21 Street
(btwn 10 Ave. & J. Dimaggio Hwy.
(212) 243-2121

E'Toile
109 East 56th Street
(212) 750-5656

Gonzalez y Gonzalez
192 Mercer Street
(between Houston & Bleeker Sts)
(212) 473-8787

Kaña Tapas Bar
324 Spring Street
(Washington & Greenwhich Sts.)
(212) 343-8180

La Belle Epoque
827 Broadway
(Between 12 & 13 Streets)
(212) 254-6436

La Maganette
825 3rd Avenue
50 & 51 St
(212) 759-5677


LQ
511 Lexington Avenue
(between. 47 & 48 Streets)
(212) 593-7575

Mirage
179 Dykman Street
(Sherman & Vermilyea Avenues) (212) 942-151

Nuyorican Poets Cafe
236 East 3rd Street
(Between Avenues B & C)
(212) 505-8183

Remy Lounge
104 Greenwich Street
(212) 267-4646

Sequoia's
Pier 17 ~ South Street Seaport
212 732-9090

Plan B
339 E 10 Street
(Between Avenue A & B)
Tel: 212-353-2303

SOB's
204 Varick Street
(corner of Houston Street)
(212) 243-4940

Umbrella
440 West 202 Street
(212) 942-5921

Vue
151 East 50 Street
(3 & Lexington Avenues}



Jet Set Cafe
1834 Webster Avenue
(near E. 175 St)
(718) 901-2222

Rhumba
396 E. Tremont Avenue
(btwn Anthony & Valentine Ave)
(718) 294-1100




200 Fifth
200 Fifth Avenue
(btwn Union and Sackett St) (718) 638-2925

Club Rio
92-35 4th Avenue
(btwn 93 & 94 St) (718) 238-6566

Mambo Lounge
63A Fifth Ave
(St. Mark's Ave. & Prospect Pl)
(718) 788-9532

Mana Lounge
270 South 5th Street
(Btwn Havemeyer & Marcy Ave,)
(718) 599-5623



Amazura
91-12 144th Place
(Btwn )
(718) 298-6760

Casa Latina
116-02 Jamaica Ave
(Btwn )
(718) 850-4836, 37

Casanova Night Club
73-12 Roosevelt Avenue
(Btwn )
(718) 205-2614

Chibcha
79-05 Roosevelt Ave
(Btwn )
(718) 429-9033

Club Melao
36-14 31st Street
(Btwn )
(718) 392-4833

Extravaganza
33-15 56 Street
(Btwn )
(718) 565-6454

Ilusiones
36-21 Steinway Street
(Btwn )
(718) 729-6476


Metro
126-02 Northern Blvd
(Btwn )
College Pt
(718) 426-1345

Play
77-17 Queens Blvd
(Btwn )
(718) 476-2828

Vault
29-11 Queens Plaza N. (Btwn )
(718) 706-7666
Rancho Jubilee
23-04 94th Street
(Btwn )
East Elmhurst
(718) 335-1700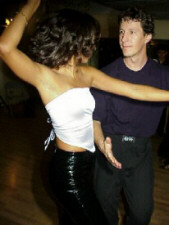 Salseros "Doing It"
Follow these links to find club information, photographs and MPG movies of Salsa Clubs. To find out about future events see our Salsa Events Calender.
A Salsa club is any club that plays Salsa music at least one night per week and is open to the public.
Home, Music, Dance, Clubs, Events, Photos, New York, History, Culture, Poems, Contact Us
---
justsalsa.com
Contact Us
Terms of Use
Copyright © 1999 - 2013 justsalsa.com NYC. All Rights Reserved.