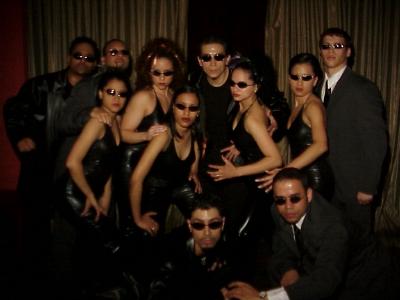 The Abakua Dancers performed "The Matrix" at HUSH on April 30, 2001. HUSH is the best Mambo party in the city. In the house were members of Tropical Storm, Caribbean Soul, Jai & candy, and other members of New York's best dance teams.

HUSH is THE after-work spot in Manhattan on Monday nights. DJ Henry Knowles and Izzy are your hosts in this comfortable club with restaurant. They serve a free bufett and there is a free dasnce class by Frankie Martínez, Aisha Koswara, and Brenda Byrd. All for the price of $10 admission. Henry spins "Simply Salsa" and manages to work in a few Cha-Cha-Chás. The dance floor is excelent and the club is stylish and accomodating with many table and seating areas.

Hush nightclub is located at 17 West 19 Street in Manhattan. The phone number of the club is (212) 989-4874.

These photographs were taken by Annie Heckhiemer and J. Fernando Lamadrid on April 30, 2001. All rights reserved and copyright www.justsalsa.com 2001. Your feedback is welcome.