A Web Magazine Dedicated To Latin Music and Dance Culture
---
Home, Index, Music, Dance, Places, Events, People, New York, Paris, Clubs, DJs, Contact, Features
Fourth Annual Latin Music Showcase & Dance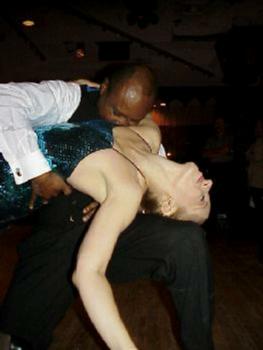 Mambo D and Glenda performing at La Maganette
The Fourth Annual Latin Music Showcase and Dance was held on November 7, 1999 at La Maganette. The event was presented by Viva La Musica Productions in association with Tony Rodriguez and La Maganette, Paul Motors, The Bronx-Lebanon Hospital Center, Sal Sola', and Descarga Catalog. The evenings included performances by The Charanga All-Stars, Ernie Acevedo & Conjunto Imagen, Gilberto "Pulpo" Colon, Jr. & "Ensalada de Pulpo", The New Swing Sextet, Luisito Rey and his Orchestra, and presenting the youthful Latin Jazz esemble Latin Flavor.
Dance performances were given by Delille Thomas (Mambo D) and Glenda Heffer, and the International Mambo Dancers. DJ Jeff was on hand to play hot salsa for the dancing public. Proceeds from the event benifit non-commercial radio station WFDU-FM and help keep Salsa and Latin Jazz alive on 89.1 FM every Saturday afternoon from 12 Noon to 3 PM.
La Maganette is located at 825 Thrird Avenue (corner of 50th Street) in Manhattan. The phone number is (212) 759-5677.
Home, Music, Dance, Clubs, Events, Photos, Cities, People, New York, Paris, Features, Culture, Contact, Index
---
justsalsa.com
Contact JustSalsa
Terms of Use
Copyright © justsalsa.com 1999 - 2004 NYC. All Rights Reserved.