A Web Magazine Dedicated To Latin Music and Dance Culture
---
Home, Photos, Index, Music, Dance, Places, Events, People, New York, Paris, Clubs, E-mail, Features, Links
Mbra presents Pure Salsa at the Parlour Cafe on 12/17/99.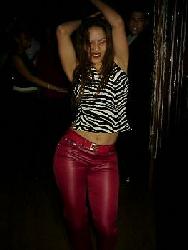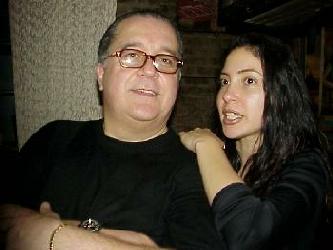 On December 17, 1999, at the Parlour Cafe, Mbra presented Pure Salsa. Elvira Dominguez (a.k.a. Fulanita), the "Off-The-Hook" "On-2" DJ, and her "Enchanting" partner Cherry Frica kept the energy high and the Salsa, Mambo, and Cha-Cha-Cha flowing until after 3:00 AM the following morning. The Caribbean Soul dancers were "In-The-House" and demonstrated their unique style of Mambo to the amazement of all in attendance. The Parlour Cafe is located at 38 East 19 Street (between Broadway and Park Ave.) in Manhattan (NYC). These photographs were taken by J. Fernando Lamadrid. Your feed back is welcome. To read about covering the event click here
The night before the event, around 10:00 PM, I purchased a portable dye sublimation printer and a box of printer paper. The printer, a Sony FP-1, is designed to print MAVICA files direct from floppy without the need of a computer. The following day, after spending most of the night making test prints, I picked up a 4 inch TV set with an AV in connector to use as a printer monitor, and some envelopes on which I affixed a mBra and a justsalsa.com logo. On the way to the event I picked up 4 more boxes of Paper.
I arrived at the Parlour Cafe a little after 9:30 PM. I set up the printer in a safe place and began to shoot photographs. Every few shots would I stop and print the results. The photographs were then delivered to the subjects free of charge. I stayed for the entire night. This is rare for me. But the party was so much fun that I did not realize how late it was until the management turned on the lights.

Home, Photos, Index, Music, Dance, Places, Events, People, New York, Paris, Clubs, E-mail, Features, Links

---
justsalsa.com, Copyright © New York City 1999, 2000, 2001.