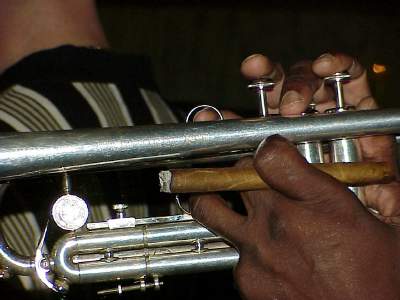 Nelson Gonzalez and Son Mundano played with special guest Chocolate at Opaline Restaurant and Lounge Bar at 85 Avenue A in New York City on September 22, 2000. The live music was hot son ("click" here to see a short mpg movie) and dj Babaloo did his job by providing his particular mix of known and obscure Cuban music.
The party, produced by La Rumba, starts at 10 o'clock and is held every Friday. The cover charge is $10 or $8 with a card available at the event. The phone number at Opaline is (212) 475-5050. Opaline's food is great and the place is beautiful. There is a bar area and a large lounge area sperate from the bar and dance area. The dance floor is made oout of cement but there are wooden sections of the club that are perfect for the lucky few. On the night I went some of New York's best Salsa and Mambo dancers were in the house and the dance floor was animated. Check out this party would won't be disapointed.
These photographs were taken by J. Fernando Lamadrid. All rights reserved and copyright www.justsalsa.com. Your feedback is welcome.