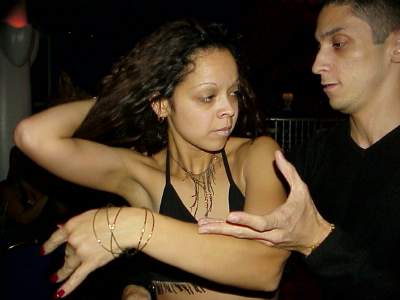 The Supper Club, located in mid-town Manhattan, is the new Salsa "Hot-Spot" for Friday and Saturday nights in New York City. This night was the first night, a sort of trial run (or "marcha blanca", with salsero Miles Peņa providing live music and "la reina de la clave" dj Elvira spinning her signature "Pure Salsa". The dance floor is excelent and the club is stylish and accomodating with many table and seating areas. There is a balcony that rings the back and side walls and provides great views of the entire club.
Come to this new Salsa Night that has shows posibilities of being the Millennium Palladium. The Supper Club is located at 240 West 47th Street in mid-town Manhattan. The group sales manager is Adriana Bustamente. The phone number is (212) 921-1940. The fax number is (212) 391-3982 and the E-mail is SupperClub@aol.com.
These photographs were taken by J. Fernando Lamadrid. All rights reserved and copyright www.justsalsa.com 2000. Your feedback is welcome.