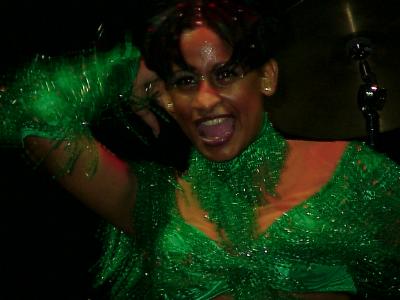 The 25th New York Salsa Festival, held at Madison Square Garden on September 9th, 2000, was dedicated to the memory of the late great Tito Puente. The highlight of the show was a performance by the Eddie Torres dancers. The musicians that performed in order of appearance were Tito Puente Orquestra, Son by 4, Tito Puente jr., Frankie Morales, Tito Nieves, Domingo Quiñones, Oscar de Leon, Tony Vega, Celia Cruz, Marc Quiñones, Eddie Palmieri and His Orquestra, Jerry Medina, Hernan Olivera, Pete "el Conde" Rodriguez, Michael Stuart, and the . The master of cerimonies was Paco Navarro of la Mega.
The concert was well scripted and all the musicians stuck to the song list. The Tito Puente Orquestra played: Mambo Birdland, Caliente, barabaratiti, Nuestro Amor, Salsumba, Hay Que Trabajar, Dejame Soñar, Celia & Tito, and Ran Kan Kan. Eddie Palmieri and His Orquestra played: Itutu Ache, El Puente Mundial, La Ultima Copa, Marchando Bien, El Beso, Bolero Medley, Cielito Lindo, La Negrita Medley, and Oye Como Va.
These photographs and MPG movies were taken by Elvira Dominguez and J. Fernando Lamadrid. All rights reserved and copyright www.justsalsa.com. Your feedback is welcome.